Several months ago a challenge was posted on
LumberJocks
. The challenge was to acquire Google's sketchup software; find a building, bridge, etc as inspiration; and design a dining room table based on that inspiration.
Sketchup
is 3D modeling software. With it you can virtually construct items. Even the free version has lots of capabilities. Those capabilities make it a challenge to learn. August and September were busy and I didn't find enough energy or time to learn the software before the challenge ended at the end of September.
I also had trouble deciding on an inspiration. What I was looking for was something that had some meaning for me, and which, when worked into a table, would work. Finally with about a week until the deadline I thought of an inspiration that would work.
My inspiration is/was the Old North Bridge in Concord, Massachusetts. This is the bridge referred to as the "rude bridge that arched the flood" in the
Concord Hymn
by Ralph Waldo Emerson. The bridge is part of the
Minute Man National Historical Park
. This area was the site of one of the battles that started the Revolutionary War.
With inspiration in mind I began my work in Sketchup on the table design. It took me quite a while to conquer the software. I missed the challenge deadline (to paraphrase
Douglas Adams
I liked the whoosing sound the deadline made as it went flying by). I considered giving up on the design, but decided to follow through despite having missed the challenge deadline (and the prizes being given).
So, now that this has turned into a much longer story than necessary, here are a couple of pictures of the bridge. I took these from my kayak on October 18th.
This is not the bridge that was there is 1775. It would be very surprising if it was given that it's a wooden bridge. I happened to pass under the bridge while a tour was passing overhead and learned that this bridge is wider and has a higher arch than the original but the construction is basically the same.
Here's my design for a dining room table based on the bridge. If I were to build it I would use oak for the light wood and walnut for the dark wood. Construction would be primarily mortise and tenon.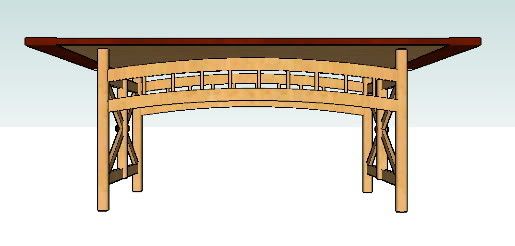 Side view.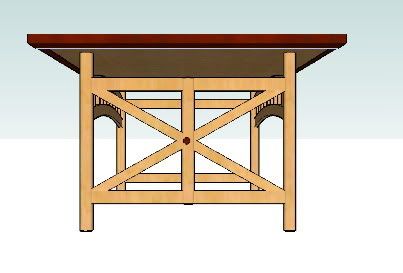 End view.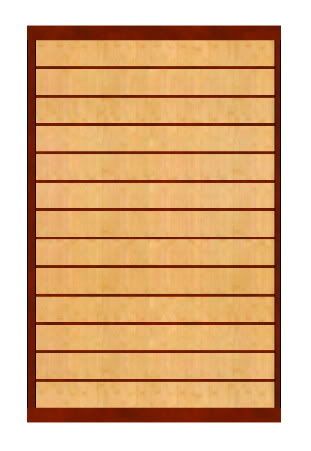 Top View. This is intended to look like the slats of the bridge surface.

A look at the whole table.
Size is 42 inches wide by 68 inches long. The legs are 28 inches high.
I have since used Sketchup to work out the design for the advent calendar I'm working on, and for a small side table. More details on those to come later.